What is video brochure?
it's common brochure, but there is screen inside, in one word: paper greeting card + LCD screen
Your company logo and branding, combined with custom print and video, will surely capture the attention of who receive and view your video brochure.
LCD screen can allow for pre-recording of up to 2 hours of video and text that can be invaluable for your new campaign
Your video content can be easily viewed anywhere and anytime without the need for an internet connection or AC power.
What is video greeting card used for?
Video cards are mainly used for advertising,promotion, retailer, and End-Users are from industries including Car, Luxury ( brand watch, perfume, cosmetic...),High-Tech(Mobile phone, machine...),medical, big company and so on, supermarket or store.
Specifications:
0.Material: Paper printed brochure + LCD + memory+ speaker+ battery+ USB port
1.Brochure size: A5 landscape the most puachased, A4, A6 or customised size.
2.LCD size: 2.4", 2.8", 3.5", 4.3", 5",7" and 10.1" TFT LCD display
3.Memory size: 256MB,512MB,1GB,2GB,or 4GB
4.Battery:built-in lithium battery
5.Video support format: MP4 / AVI
6.Buttons: On/Off, Play/Pause, Previous/Next or Volume up/down, mute, video selection buttons.
7.Speaker:built-in
8.OEM orders are welcomed
9.With USB port for recharge and unload video
10.You can unload your own video by yourself
11. Activation:
a)magnet activation:Open the card: power on and start to play video automatically, close the card,power off
b)Or button activation: press a play button in the card ,start to play the video;
12:Video
a)cycle playing(loop playing) if have several videos
b)Or make 3 segments video with 3 different buttons to play the viedo for showing different themes;
c)customer can upload your favourite video into the card by yourself.
What's price of Video Brochure?
Every order of Video Brochures is different, please tell us screen size, video brochure size, video content capacity, quantity, then we will send you our best price.
What's minimum order quantity?
No MOQ requested, in general, 1-10pcs, we will do digital printing, 10pcs+, we will do off-set printing.
How to place order?
① please tell us screen size, video brochure size, video content capacity, quantity, buttons.
② We will send you our best price.
③ If you are satisfied with our price, we will send you our PI for payment.
④ Please send us your artwork, we will send you our counter artwork for your approval.
⑤ When we get your payment, we starts to run your order.
⑥ When we finish production sample, we will send you pictures and video for your approval.
⑦ After you approve our pictures and video, we will proceed production assembling.
⑧ Deliver out by express 4-6 working days, Of course, each countries delivery for shipping may vary.
How to make video in print:
Assembling quality control is also a key,Here is process and quality control of video in print attached,making you completely understand process of video in print and our quality control system.
How to assure our quality which customers care most:
3 times fully checked before shipment.
Here is information about how we assemble video brochure and detailed quality control.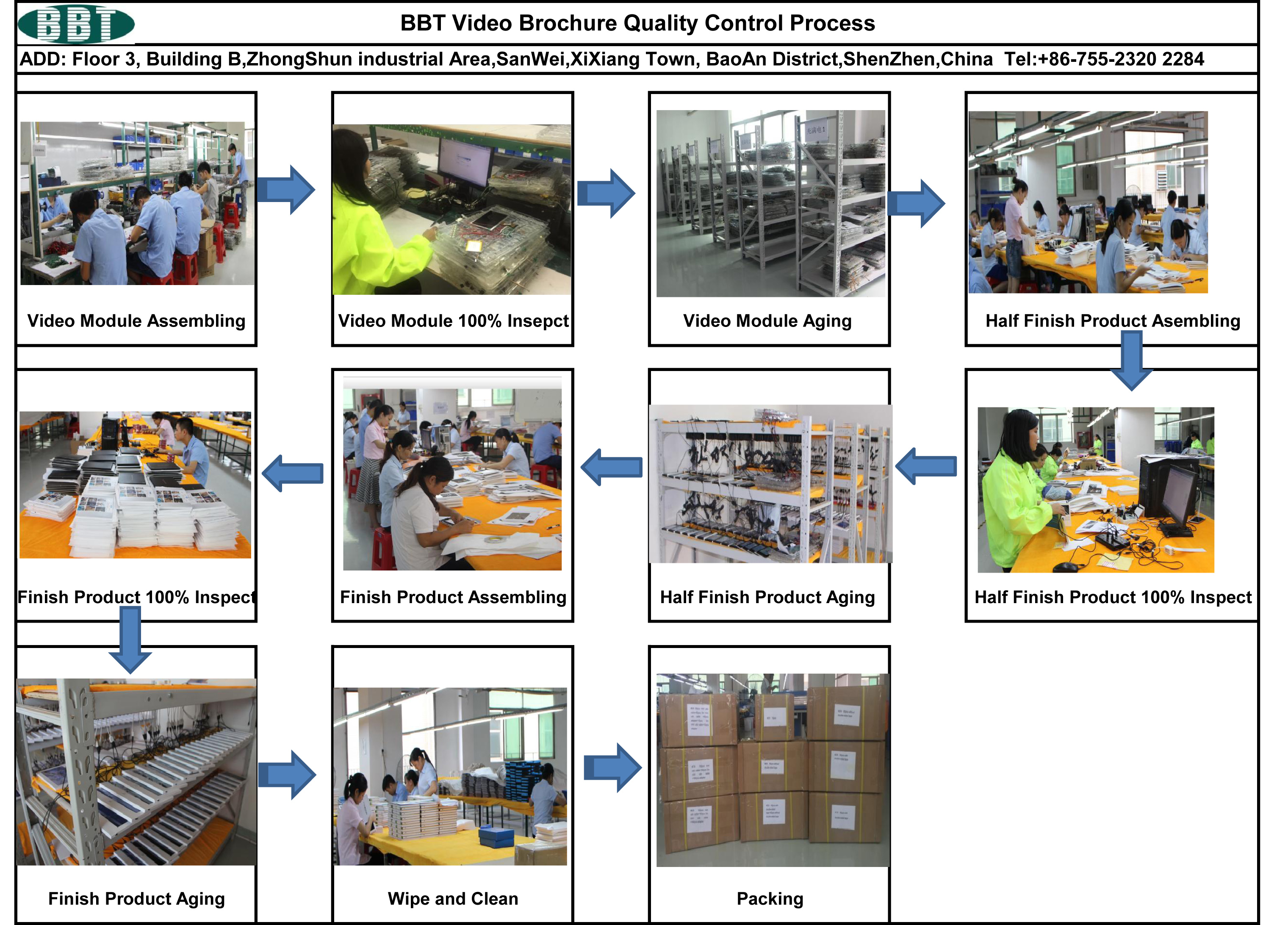 2 years warranty! 8 Years making video greeting card!